We carry Genuine Ford NOS C9ZZ-6051-B O-ring head gasket sets!...
Always have…always will…Yes, correct count!…No BullShit excuses here!
Original Cooper fire combustion metal rings are tabbed to lock-in the head groove!
Original Ford encapsulated (metal) rubber step O-rings won't squirm when compressing!
We've always had a limited supply coming & going (on our shelf since 1972)...seriously!
If you are a good customer…we can help…
Just in case…you get in trouble with your engine rebuild!
We usually have extra NOS Cooper combustion fire-rings & NOS small oil O-rings …
We also BUY (trade) broken or partial NOS Ford sets, too!…Absolutely no repros, EVER!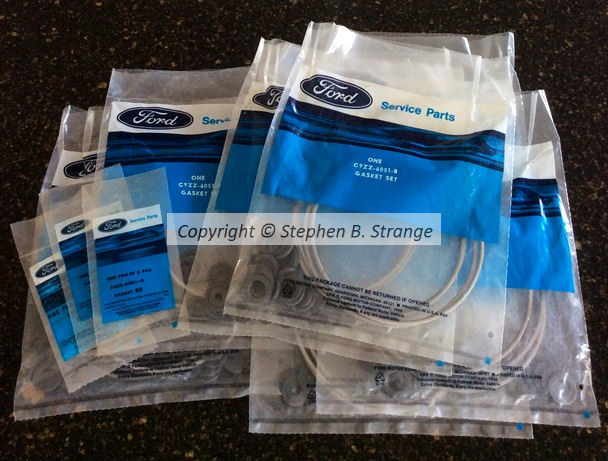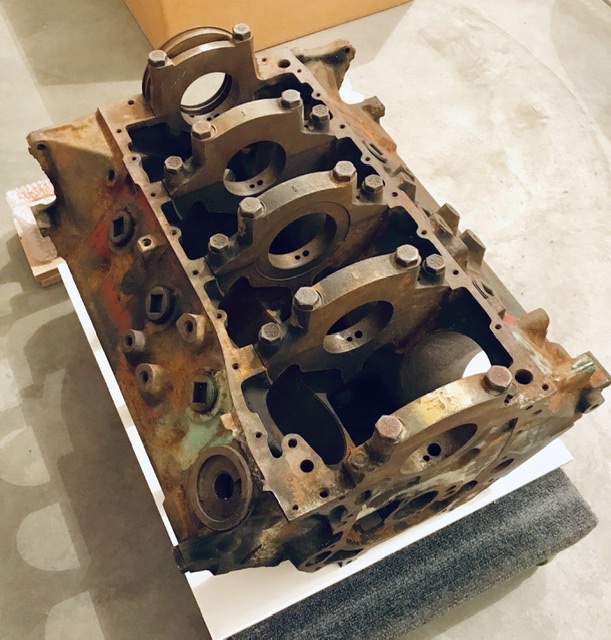 We invoice securely thru PayPal on orders under $2000. to your e-mail address…
Orders over $2000. will be paid by ACH, wire transfer or Cashier's Check…
We then confirm receipt of your payment and schedule the shipping…
After the item(s) is shipped, we post tracking number(s) to your e-mail.
Items are sold as is, where is, no warranty expressed or implied…
If you're a playa jump on a plane and bring cash!

Our business policy...rules of the road...
We carry vintage hi-performance & racing parts...
That means many of our parts are 30 to 40 years old...
All our items are sold as is, where is...There are no returns after 7 days...
Performance, Racing & Collector car parts...
No warranty is expressed or implied...
We have been doing business since 1979 and we are old school...
We ship what you order, every time!...
No items are back-ordered...ever!...Repeat no back-orders ever!...
Prices & availability are subject to change, WITHOUT notice, at any time!...
If you inquire on an item(s), we will offer you a firm quote for 10 days...
All our sales are final...Why? Because most of our items are one of a kind items...
We ship securely and insure everything to your door...
Please understand our rules & policies BEFORE you buy!...
Our goal is happy campers & owners, every time!...
Thank you for your business!...


Rare NOS Ford Kar-Kraft Boss 429 C9ZZ KKX DAP spare parts!...
Museum quality...Best there is!...Genuine Ford pieces!...
Most parts have their original Ford tags & labels!...Even the Ford boxes are nice!
Do you know the last time you could order an NOS Boss 429 snorkel from Ford?
Or how about an NOS Boss 429 KKX H-pipe?...Try 1976!...
NOS 1969 Autolite Boss 429 oil breather caps! NIB!
NOS C9ZZ 69 rear stabilizer bar, NOS C9ZZ rear stab bar links…
NOS Ford C9ZZ-5230-C1 '69 muffler NIB...
NOS Ford snorkel & '69 heat shield, NOS C9ZZ hood-scoop flapper & ram-air cable...
NOS Autolite C9ZX front shocks NIB, NOS Autolite C9ZX rear shocks NIB...rare!
NOS Motorcraft C9ZX front shocks NIB, NOS Autolite C9ZZ positive long battery cable...
NOS Ford MW 69 wheel caps & decals, NOS MU2 pb booster w/wedge, master cylinder...
NOS Ford water tubes, NOS PCV hose, NOS 69 fan blade, NOS KKX hood scoop...
NOS BB-28 vented battery set NIB, NOS C9ZX equalizer bar, NOS 1970 throttle cable...
NOS Ford Carter fuel pump '69 date, NOS KKX hub & rotors, NOS positive terminal...
NOS C9ZZ-2282-A C9ZA rare '69 rear brake hose, NOS D0ZZ-2282-A rear brake hose...
NOS KKX H-pipe, NOS FoMoCo intake, NOS exhaust manifolds...etc.
NOS KKX front spoiler, NOS distributor, NOS battery, NOS Dearborn radiator cap...
NOS voltage regulator, NOS ps pump, original KKX export brace...NOT repros!
NOS Autolite spark plug wire set 2Q-69 NIB, NOS boots & ceramic set...
NOS 1970 Autolite D0OF-9510-S carburetor...very late production!...$$$$$
Original 1970 Boss 429 air cleaner assembly & original snorkel!
Pls provide your KK number or engine ID number for any $erious inquiry...

Rare NOS H/M SK NASCAR & CAN-AM engine racing parts!...
NOS H/M SK 494 alloy block...NOS SK CAN-AM D-port aluminum heads...
Rare NOS NASCAR magnesium rocker covers & caps!...$$$$$ not cheap!
NOS RX CAN-AM pistons, NOS XF Autolite Rawsonville off-set distributor...
H/M NASCAR HiPer orange spark plug wire set...
H/M NASCAR 4843-S Carter X casting fuel pump...one race...
Too many other H/M racing engine components to list...
$erious offers considered...

1969-1970 Boss 429 Mustangs, OEM stock equipment...Genuine Autolite-Ford parts!
Most Autolite-Ford parts are clearly marked AUTOLITE...
NOS Autolite-Ford Boss 429 parts in stock...brand spanking new in original GT logo boxes!...
AF-32, AF501, CD19, DP5, DC13A, EV-1 DH, DH6, DH146, FA-41, EC7, EC11...
FL1, SV-29HR 69 & 70 case dated, BB28, RS12 Dearborn, TKF-13, 7SH, FG19, FG39...
GR341, CG-263, DG5, DG32, DR5...more...
extra Autolite GT signs, clocks, cabinets, racks...inquire...