The purpose of the Boss 429 Mustang World Registry is to gather and compile accurate historical information about these rare Nascar Mustangs. The registry was established in 1974 by Stephen B. Strange, and with the help of the Ford Motor Company, Kar-Kraft engineers Fran Hernandez & Don Eichstaedt, and enthusiasts the world over; have been able to put together correct historical details, photographs, and statistics about the famous Boss 429 Mustang. We still need your help though, in gathering missing information & photos about the program. Today, we are working on publishing a complete Boss 429 Mustang World Registry book, ISBN 0-931417-04-X, scheduled for publication later this year.
Kar-Kraft as it looked in May of 1969. Located in Brighton, Michigan, here Boss 429 Mustangs were hand-assembled, for shipment to selected Ford Dealers, all over the United States.

Do you need help in verifying a Boss 429 Mustang serial number or Kar-Kraft KK 429 Nascar production number?
Click here for the Registry form.

Do you know where these cars are today?

Mickey Thompson's '69 Super Stock Drag Car. -Verified!

Ernie MacEwen's '69 Drag Car -Verified!


Nelson-Ekdahl's ' 69 drag car. -Found!

Eddie Schartman's ' 69 Cougar. -Found!

Tom Larkin Ford '69 Drag Car - Verified!


Foulger Ford's ' 70 drag car. -Verified!

The extra ' 70 Lawman drag car. -Found!

Of course, we'd like to find them too. That's what the Boss 429 World Registry is all about. Locating info about historical vehicles.









Official home page for the Boss 429 Mustang World Registry...
Historical document archive-image library, as part of a For-Profit Business.
Specific KK file research & photo-copy service, requires a nominal fee!
Protect your car's provenance & historical importance...
It will define & protect a genuine KK 429 NASCAR chassis vehicle...
from the fakes and counterfeits...most likely to be out there now!...
Other concerns: re-popped inner fenders, re-stamped engine cylinder blocks...
Registry inquiries are treated as confidential...
Inquire BEFORE you make that purchase!...

Registry file information is offered as a courtesy service to our
customers. Boss Performance and the Boss 429 Registry believes
to the best of our knowledge, that the information conveyed and
contained here, is accurate. However, due to the historical nature
of the subject, it is ultimately the responsibility of the hobbyist to
independently verify the accuracy of such information...

Our Registry files are NOT posted anywhere on the internet or stored online...
We maintain "hard" paper files and photographic prints...Real photos!...
Along with supporting factory documents, ads, auctions, etc...
which go back to 1974 and before...to many of the original owners!...
We also have the complete KK-Brighton engineering log books...
Complete KKX C9ZX to Ford engineering blueprints...
rare original KKX factory Boss 429 parts & detail pieces...
and Ford Photo-Media Library negative list...as an historical archive...
Any inquiries on a specific vehicle; do require a KK number or a VIN number...
Nominal Registry research & copy fee per vehicle, may be required...inquire...
Correspondence pertaining to a particular vehicle may include detail specifics...
which become part of the car's known history file...
We have compiled a list of vehicles retained by Ford Motor Co...
and their various departments...i.e. Autolite-Ford parts, DAP AAD, FDAC...
Ford Design, Engine & Foundry, Ford of Canada, Loeffler, P-250, etc...
M/T, Lyall, Gapp, MacEwen, Foulger, Fadely, Hinzmann, etc...
Note: Inquire via the official Registry form below...

We carry Genuine Ford NOS C9ZZ-6051-B O-ring head gasket sets!...Correct count!
Original Cooper fire combustion metal rings are tabbed to lock-in the head groove!
Original Ford encapsulated (metal) rubber step O-rings won't squirm when compressing!
We reference the original Ford E & F cylinder head assembly instructions, too!
We've always had a limited supply coming & going (on our shelf since 1972)...seriously!
Because of limited availability, we require your KK number or engine number, prior to sale...

Rare Kar-Kraft Haggerty & Brighton photos...
We've got hundreds of original prints & negatives!...
Thousands of original KK documents & blueprints...
Ford Boss 429 unique part numbers...
Boss 429 NASCAR engine specs & much more...
Boss 429: Performance Mustang Style book...
E-mail for special website only price for new owners...

Copyright © 2021...All Rights Reserved!...

"Don't follow us on Twitter...
'Cause we sure ain't there!......We're here!"......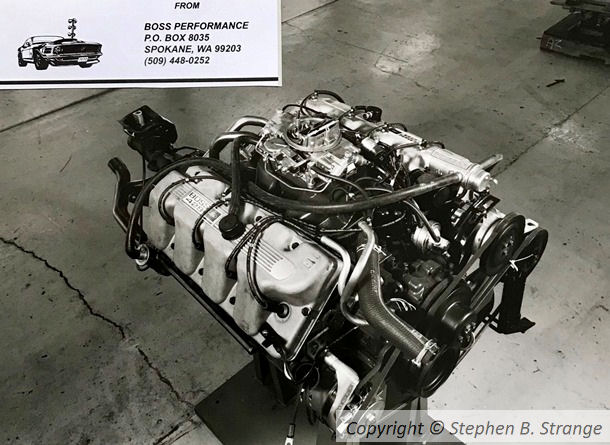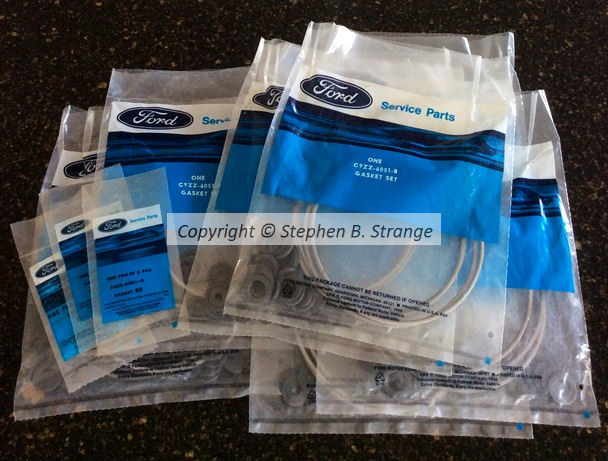 Historical Archive Established 1974
Boss 429 Registry
PO Box 8035
Spokane, WA 99203
USA